Our investment approach
We take a flexible and dynamic approach to investing, which is underpinned by three key principles.
Client driven, outcome orientated
Your investment needs drive everything we do. We provide a full range of investment solutions that can address your specific need for income, growth or both - our experts are able to build portfolios specifically aligned to these goals. While no investment is risk free, we can offer options that help provide some insulation from the worst of the market's volatility and can also accommodate ethical considerations.
Active and forward thinking
The global investment landscape is constantly changing. As an active investment manager, these continual shifts can provide fertile hunting ground for compelling investment opportunities.
Our research-intensive approach focuses on identifying the drivers of change that could impact the value of your investments. These changes can be big or small, local or global. They can range from a specific company restructuring, regulatory reforms that could impact certain industries, to technological developments or issues as wide as shifting population trends. This depth of insight provides an information advantage with which we aim to generate better performance - ultimately growing your wealth more intelligently.
We are innovative in our approach and are continually developing ways to deliver next-generation, cost-effective investment solutions to our clients. By encouraging a forward-thinking culture, we aim to stay relevant to your needs - today and in the future.
Global reach
We strongly believe that by actively investing on a global basis across asset classes, we can offer clients the best opportunity to increase their real wealth, consistently and over the long term.
We have extensive resources at our disposal through the global footprint of abrdn. To have confidence and conviction in the investments we make, we strive to know the companies in which we invest, inside and out. A global reach helps us achieve this; enabling us to identify diverse investment ideas across the globe and ensuring our portfolios can be positioned to benefit from an ever-changing world.
Investment process
Our core investment process is built on expert insights, high-quality research, skilful portfolio construction and a rigorous risk framework.
Our aim is to add value at every stage through this combination of analytical expertise, diligent selection of investments and continual review of the assets that we hold on our clients' behalf.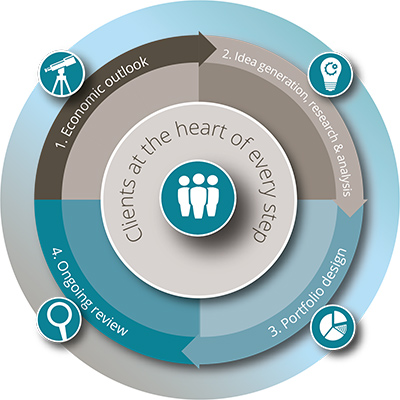 Responsible investing
We understand that you may wish to reflect your beliefs and values in the investments you hold. At abrdn, we have a clear focus on responsible investment. By incorporating environmental, social and governance (ESG) factors into our investment process, we can meet your needs, while investing with respect and responsibility.
What's more, we believe that understanding ESG factors and actively engaging with the companies we invest in helps to improve long-term, sustainable investment returns.
As with any investment, the value can go up or down, and may be worth less than you paid in.