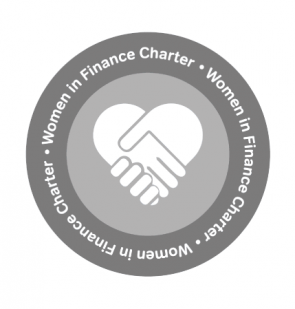 HMT Women in Finance Charter
We're committed to achieving gender balance at all levels of our organisation and have been working towards this goal for a number of years. We believe that being transparent about our actions will help to improve progress in our business and across our industry. We're addressing this through our gender action plan, by setting targets and through our pledge to the HMT Women in Finance Charter.
Our gender action plan is designed to improve how we attract, retain and enable women to progress their careers at abrdn. It has actions targeting early, mid and senior career stages.
Our diversity targets
What we've done in 2021-2022
We've introduced new gender inclusive recruitment practices such as ensuring diverse shortlists for roles, using augmented writing software for job adverts, running returnship programmes, and developing strategic partnerships to attract more women into roles with our company
We've conducted gender analysis of our HR employee lifecycle processes
We've driven greater accountability by providing leaders with increasingly detailed gender data
We offer gender inclusive policies including market-leading, gender-equal parent leave
We've addressed gender-related barriers to career progress, including building inclusive leadership capability and creating safe spaces to share and learn
We've provided a practical support framework through our employee network for gender equality, Balance
We've introduced development offerings for women at early, mid and senior career stages
Our progress as at 31 December 2022
Our targets
Gender targets met

1 out of 3 of our 2025 gender targets met, and on track for the remaining 2
39%
Women at senior leadership

2021: 36%
61%
Women in graduate intake UK

2021: 45%
43%
Women in global workforce

2021: 46% 2020: 45%
4.6%
Reduction in mean gender pay gap

Mean gender pay and bonus gaps and median gender pay and bonus gaps reduced
Supplementary gender data
Percentage of women in the following populations:

Middle management: 36%
Non-managerial positions: 45%
A global leader

Equileap has named us a global leader for our UK equal parent leave policy

Continued recognition

We've been included in Bloomberg's Gender Equality Index every year since 2018, and have the highest percentage of female fund managers in companies of our size (Citywire Alpha Female report 2021 and 2022)

Setting standards

Our company was among the first signatories to the HM Treasury Women in Finance Charter in 2016 – demonstrating our commitment to inclusion and diversity, and pledging to increase gender balance in our senior management populations and across our industry
More about partnerships and measuring our impact
We report our UK gender pay gap each year. The gender pay gap is the difference in the average pay of men and women and a measurable indicator of gender equality in an organisation.
| | | |
| --- | --- | --- |
| | 2021 | 2022 |
| Mean gender pay gap | 33.3% | 28.7% |
| Mean gender bonus gap | 57.3% | 46.2% |
In 2022 our mean and median gender pay and bonus gaps all reduced compared to the previous year. Our pay and bonus gaps have reduced each year but we are determined to work even harder on our gender actions in order to create change within abrdn and across the industry. For this reason, we committed to a collective target through our partnership with the Diversity Project, to reduce our industry gender pay gap by 50% by 2030.
Balancing gender representation is key to creating an inclusive culture, and has the potential to improve company profitability by 25%[i] and boost the global economy by $12 trillion[ii]. COVID-19 has disproportionately impacted women[iii], meaning the need for a gender inclusive workplace, free from systemic bias, has never been greater. We remain committed to making sustainable progress on gender equality in our organisation and across our industry.
More in our diversity, equity and inclusion report 2022


[i] Companies in the top quartile for gender diversity are 25% more likely to experience above average profitability (Source: 'Diversity wins' – 2020 McKinsey and Co). [ii] $12 trillion could be added to global GDP by 2025 by advancing women's equality of participation (Source: 'The Power of Parity'– 2015 McKinsey and Co) [iii] McKinsey Global Institute – COVID 19 and gender equality: Countering the regressive effects (July 2020).
More information on diversity, equity and inclusion at abrdn