Last week marked the 10th anniversary of abrdn's Edinburgh Investment Forum when abrdn were delighted to welcome twenty-nine clients from across Europe and Asia to Scotland's capital. The cohort heard from CEO, Stephen Bird, Chief Investment Officer, Peter Branner, as well as specialists from across abrdn's Investments business, and experienced a range of presentations and workshops which, this year, centred on abrdn's core capabilities across Public Markets and Alternatives.
"The EIF is an important element of our client engagement programme", explained Eric Bruce, Global Client Director, abrdn - "It enables us to engage with clients from across the globe with whom we wish to build stronger relationships."
Eric, alongside Stephen Bird, got this year's forum underway, where they welcomed the visiting group in the heart of Edinburgh to introduce the week's agenda. Sessions covered AI, Blockchain, Multi-Assets, and Sustainability, as well as deep dives on Equity and Fixed-Income strategies.
The Edinburgh Investment Forum … is a unique opportunity to get closer to our clients and give them increased confidence in our capabilities
Eric Bruce, Global Client Director, abrdn
Knowledge exchanged
As announced in May 2023, abrdn and the University of Edinburgh have entered into a five-year partnership through the creation of the Centre for Investing Innovation (CII). In a week where Elon Musk announced the release of 'xAI', and was interviewed by Rishi Sunak, the client group had the opportunity to visit the university and hear from Sotirios Sabanis, Director of Knowledge Exchange, and John Vines, Chair in Design Informatics, about AI's potential to enhance and disrupt the asset management industry. Alan Kennedy, Manager at the CII, and Craig Borland, Equity Research Manager at abrdn, also shared some broader insights with the visiting group on the project's purpose and current work being undertaken.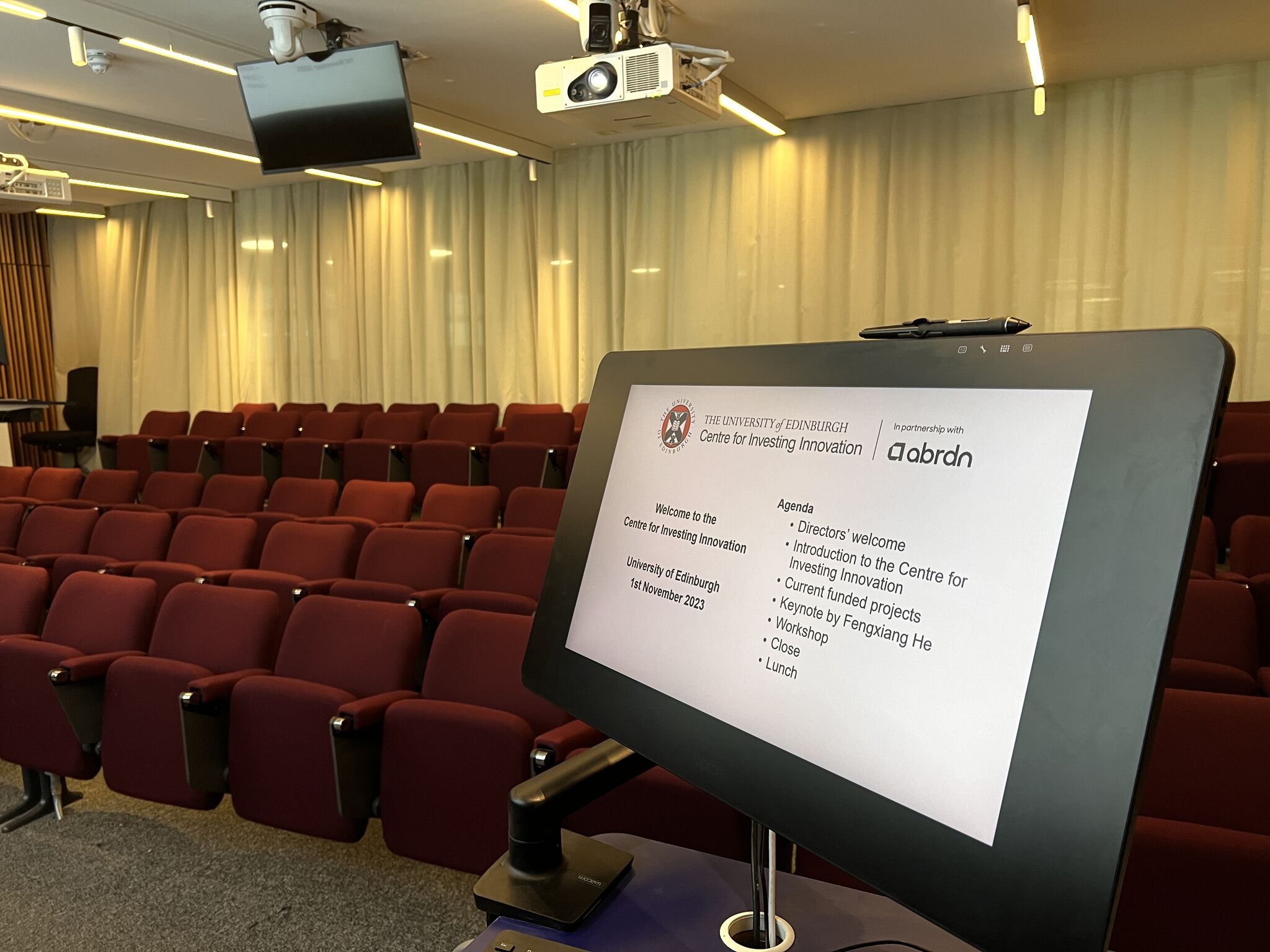 On the theme of contemporary topics, the forum provided a fitting opportunity to discuss digital assets off the back of abrdn's continued good progress in this area through the year to date. Duncan Moir, Senior Investment Manager in abrdn's Alternatives business, said:
"Distributed ledger technology will be a powerful enabler for democratisation of finance, expanding the opportunities available to smaller investors, and at the same time creating new sources of value for institutional investors. Using Hedera Hashgraph technology, and alongside our partners Archax, abrdn is pioneering these advancements in asset management through asset tokenization."
Navigating the complexities of key asset classes
As the week drew to a close, the clients heard from abrdn's Chief Investment Officer, Peter Branner, and Chief Product Officer, Emily Smart.
Together, they offered insights into navigating the complexities of key asset classes during times of market uncertainty, while also presenting our innovative product pipeline, highlighting our commitment to staying ahead of client trends and adapting to an ever-evolving financial landscape.
abrdn is committed to continuing its tradition of fostering knowledge and collaboration, ensuring clients are well-prepared for opportunities and challenges ahead.
Showcasing abrdn's capabilities
Summing up the special nature of the programme, Eric Bruce, abrdn's Global Client Director explained:
"The Edinburgh Investment Forum is scalable – we can offer places to a large number of clients – not just the twenty-nine this year. It is a unique opportunity to get closer to our clients and give them increased confidence in our capabilities. Many of our competitors do not offer such a programme and it is worth highlighting that doing so in Edinburgh differentiates the event even further."
The Forum is set to begin its second decade with another cohort of clients being welcomed to abrdn's home next year.