Provident fund is a fund that employee and employer jointly established to help provide financial security of the members and members' family in the event of employment termination, retirement, disability or death.
Employer and employee contributions are paid into the fund at the agreed upon percentage at each payment of salary or wages.
Is it now about time to help your employees save for their retirement ? If it is, you would be relieved to hear that we, Aberdeen Asset Management (Thailand) Limited, can help you with your retirement planning with our provident fund management service.
Aberdeen Asset Management (Thailand) Limited offers provident fund management service with two types of fund structures, Pooled Fund and Single Fund.
Pooled fund
A Pooled fund is suitable for small or medium size companies. A Pooled fund can be more effective managed and cost-effective while it offers different type of sub funds that cover a universe of asset classes. Currently, we are providing provident fund services for newly-set up, small and medium sized provident funds to join into "Aberdeen Standard Master Pooled Registered Provident Fund", where employees will be entitled to Employee's Choice allowing them to select investment policy depending on different investment objectives under 5 investment policies as follows.

Employee's Choices: The Fund Committee may set investment plans for its members to select or members themselves can determine their asset allocation depending on each of the member's expected returns and risk appetite.
abrdn sub fund
Risk level
Investment policy
Factsheet
abrdn Money Market Fund for Provident Fund
Medium-Low - 2
Invests in deposits and fixed income instruments
issued by government sector that mature at call or within
397 days from the investment date.
abrdn Fixed Incomet Fund for Provident Fund
Medium-Low - 4
Invest in bank deposits and fixed income instruments
issued by government sector and/or corporate
bonds with credit rating of investment grade.
abrdn Mixed Fund for Provident Fund
Medium-High - 5
The fund will invest in both equity, hybrid and debt
instruments issued by government, state enterprise and private sector including offshore investments which will be in compliance
with the Office of the SEC's criteria.
abrdn Growth Fund
High - 6
Invest in equity of potential high growth or good fundamental
companies for medium to long-term investment.
abrdn Asia Pacific Equity Fund
High - 6
Invest in a foreign fund Aberdeen Pacific Equity Fund (Master Fund),
is a diversified portfolio of Asian- Pacific equities excluding
Japanese equities.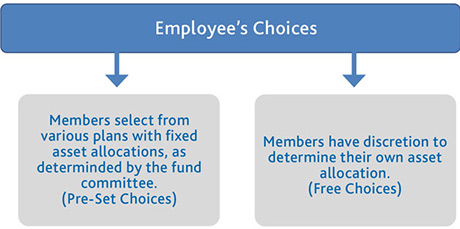 Aberdeen Standard Master Pooled Registered Provident Fund
feeding into established mutual funds with strong track record
Convenience: employees can check outstanding balance and switch their investment plan easily via online system
No double charging: no management fee at Provident fund level, fee is collected at Mutual fund level
Experience: more than 10-years experience: in Provident Fund management
Aberdeen Standard Cash Creation Fund and Aberdeen Standard Value Fund - The fund will not invest in instrument denominated in foreign currency.
Single fund
Single fund is established by the sole employer and suitable for the Provident fund's size over 300 million Baht. The investment policy can be determined and customized by the fund's committee, to suit preference and risk profile of the fund's members or to allow members to choose their own choices.
Why abrdn
We are an asset management company and clients' needs are our prime focus.
Global system: including risk management system, operations and registrar systems as well as fully tested Business Continuity Plan
Close-knit team, clear investment processes and flat structures are important to us
We believe our focus, size and approach enable us to provide effective asset management and superior client service
Superior client services along the process of setting, transferring, promoting, advising, reporting and other on-going services
Global clients base, our key clients include leading national and corporate pension funds, central banks and other investment institutions
Risk warning

Risk warning – The value of investments and the income from them can go down as well as up and you may get back less than the amount invested. Please study product's features, conditions, and relevant risks before making investment decision. Past performance/ performance comparison relating to a capital market product is not a guarantee of future results.