Gabriel Sacks from the Global Emerging Markets Equities desk in London, and Ng Xin-Yao from the Asian Equities desk in Singapore recently visited Mumbai and Pune. They share their thoughts below.
Observations
We got the sense that a lot's happening in India right now. As we drove through the mountains from the hustle and bustle of Mumbai, India's financial capital, to the city of Pune, we caught glimpses of the vast construction going on across India's highways. This shows India is building infrastructure as the economy picks up steam.
Pune was an oasis of calm compared to Mumbai, with more greenery and a slew of tech campuses on the city's outskirts. There, we came across a G20 event at our hotel, which heightened our sense that we were in the thick of all the action. India's global influence is becoming more visible every day.
Purpose of the visit
Our trip focused on the industrials sector. Particularly, companies that are clearly looking to capitalise on the 'China + 1' opportunity. That is, multinationals diversifying their supply chains to reduce reliance on China, and thereby increasing India's share in global manufacturing. The main challenge is that this is often reflected in valuations, although there are still a few companies that are flying under the radar. One of our goals is to find those businesses.
Highlights from our visit
We met some standout quality names in the large-cap space. These included, a home improvement business that benefits from urbanisation trends, and the country's leading non-bank financial institution that has grown at a rate of around 30% annually for at least a decade.
We also talked to some promising small-cap firms, including an IT-related business focused solely on serving the auto industry that is seeing good growth momentum as it wins new clients. While we don't hold these names in our portfolios on valuation grounds, we will keep an eye on them.
In all our meetings, there was universal enthusiasm towards the government's pro-growth policies. Indeed, one CEO told us that, "In the past, India grew in spite of the government, but today we are growing because of the government." Quite a powerful statement, particularly in emerging markets.
Highlight: ABB India – all switched on
India's best industrial play? ABB India increasingly looks like a catchall name for the infrastructure developments taking place in India, supported by favourable government policies.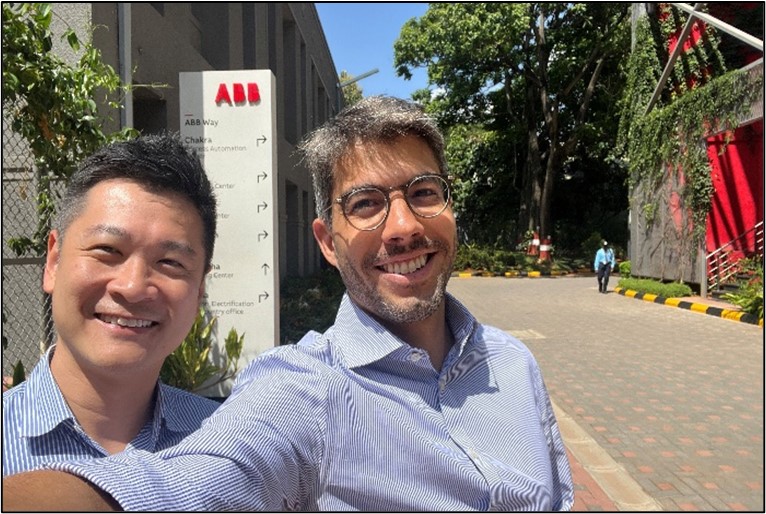 ABB India is a power engineering company with a diversified portfolio. It benefits from localisation efforts because having its manufacturing base set up in the country reduces FX volatility. The firm has exposure across infrastructure development in railways, power including renewables, electrification, energy efficiency, automation and more.
ABB India seems relatively better placed compared with the other companies we met on this trip.
The CEO is optimistic about the current industrial capex cycle in India and expects future growth to come from lower-tier cities.
We were pleased to hear ABB's business has benefited from an expansion in the addressable market and the demand for better supply chain security. The strength of its order book is driven by the increased breadth of corporate projects.

Syngene: an outsourcing success story?
Robust demand: where demand has softened from Syngene's biotech customers, large pharmaceuticals are filling in the gap.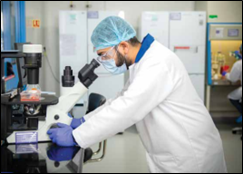 Syngene International is a leading contract research organisation serving both pharmaceutical majors and biotech start-ups. In our meeting, the company CFO sounded positive about outsourcing demand from clients, with more large pharmaceuticals firms offsetting softer biotech demand. We were pleased to hear the company is seeing a 10-20% increase in its customer base.
As a credible outsourcing partner, we expect the company to benefit from demographic trends in India and from supply chain shifts that should give Syngene ample opportunities to grow in scale and capabilities. The company is changing its business model to invest ahead for smoother capacity expansion in the future.
On talent acquisition, it was encouraging to hear the company is getting the right people for the job and equipping them with the necessary skills through its robust training programs. While some of the talent is being poached, with attrition in the high teens, this is still a ringing endorsement of Syngene's training programs.
Photo credit: Syngene Annual Report 2023
"It's rare to hear the private sector praise governments on our research trips across Asia & Emerging Markets, but this was the case during our time in India. We got a real sense that this is India's time, and that the government is doing all it can to drive growth."
Gabriel Sacks, Investment Director
"Mumbai's state of chaos is an illusion for the perception that India's bureaucracy makes it hard to build infrastructure. While it will not be a straightforward journey, Indian cities are seeing a lot of infrastructure development, which is an important foundation for the economy."
Ng Xin-Yao, Investment Manager
Outlook
The macroeconomic picture in India continues to provide a favourable backdrop for the portfolio and its holdings. The Indian economy is in the early stages of a cyclical upswing and is currently one of the fastest-growing economies in the world, supported by a resilient domestic macro environment. Government policy remains supportive with sufficient fiscal discipline to not worry investors. Inflation has eased in recent months, which has enabled the Reserve Bank of India to pause on rate hikes. Retail sales growth has been on an upward trajectory. All of this is helping sustain attractive earnings growth and a recovery in ROEs (return on equity).
While the macroeconomic picture for India looks attractive, it's never without risk. The country's external balances remain vulnerable to high energy prices – India is a net oil importer. A potential recession in the US would also weigh on the export sector. We expect our core quality holdings to continue to deliver resilient compounding earnings growth over the medium term, come what may in terms of macro conditions. Fundamentals, including pricing power, strong balance sheets and the ability to sustain margins remain solid. We further maintain confidence in the experienced management teams of these companies.
Longer term, we believe India remains an attractive investment opportunity. It has a large consumer market, a predominantly young population, and an expanding middle class with rising levels of wealth and disposable income. It's also an increasingly digitalised economy – with over 400 million and rising internet users.
The value of investments and the income from them can go down as well as up in investors may get back less than the amount invested. Past performance is not a guide for future results.
Companies are selected for illustrative purposes only to demonstrate the investment management style described herein and not as an investment recommendation or indication of future performance. Past performance is not a guide to future results.