Look around and you'll see a changing world – one that is very different from even five or ten years ago. Technology and innovation have contributed to an upheaval in expectations at every level, leaving investors to grapple with the rapid pace of economic development. Given how fast everything changes, investors can get left behind and miss valuable opportunities if they cling to their old prejudices and assumptions. One of the areas that investors should consider reevaluating is their perceptions of the differences between emerging and developed markets.
One of the areas that investors should consider reevaluating is their perceptions of the differences between emerging and developed markets.
A few decades ago, there were marked differences between developed and developing economies. Developed markets were known for stable governments, conservative monetary policy and lower levels of debt, while emerging markets were perceived as being much more risky with regard to politics and central bank policies, and had high and often unsustainable levels of borrowing. Historically, borrowing had a larger U.S. dollar component relative to local currencies, which added significant risk. Investors allocated to emerging markets because they believed that this greater level of risk could mean the possibility of greater returns.
In today's world, though, these distinctions aren't as stark as they once were. As emerging nations have grown and evolved, they have developed their institutions and policies, and in many cases have gotten their debt levels under control and maintained this discipline even during times of slower global growth. Meanwhile, developed markets are facing a turning point, as many citizens have come to believe that the low interest rate environment and global trade policies only favor the highest-earning citizens, contributing to an ever-widening gap between the rich and the poor.
While Western Europe and the U.S. are seeing the rise of populism and an ensuing uncertainty about what policies will look like in the future, many emerging nations are electing reformers who are helping stabilize their governments and facilitate business activities. And while populist politicians in the West are espousing moves toward isolationism and protectionism, many emerging markets are advocating for globalism and free trade.
In this article, we will take a look at the number of improvements that have occurred in emerging markets within the past decade that are contributing to their stabilization. We will examine what today's political and economic environment may mean for emerging markets. And finally, we will delve into emerging markets from both an equity and a fixed-income standpoint, to determine what investors should consider as they decide how to allocate to these asset classes within their portfolios.
Positive developments in emerging markets
Emerging markets have come a long way over the past few decades. When the MSCI Emerging Markets Index was first introduced in 1988, it contained 10 countries and represented less than 1% of the world's market cap. Since then, it has expanded to encompass 24 countries that make up 10% of the world's market cap.
Young people have become part of a growing middle class as they move from rural areas to city centers for jobs in a variety of sectors, including technology, manufacturing, construction, infrastructure and customer service, among others. And while emerging economies were once heavily dependent on commodity exports, many are in the process of moving toward a more service-based economy that relies on the needs and wants of this middle class. This fundamental change has shaped emerging economies and led to the broadening of emerging markets in terms of company choice. Whereas indices were previously dominated by former state-owned commodity companies or banks, there has been a shift towards more healthcare, IT and consumer companies.
If you look at the composition of emerging-markets indices today, they are actually more similar to developed markets in terms of company choice, and the evolution continues to follow that direction. Furthermore, with the shift from old-economy companies, investors are seeing improvements in overall governance, as newer companies tend to be more shareholder-focused without the potential conflicts afforded by government ties.
While economic growth for emerging nations has slowed down somewhat in recent years, it is still impressive when compared to the sluggish pace of developed markets.
While economic growth for emerging nations has slowed down somewhat in recent years, it is still impressive when compared to the sluggish pace of developed markets. As shown in Figure 1 on the following page, the International Monetary Fund (IMF) forecasts that gross domestic product (GDP) growth for emerging markets will significantly outpace the developed world for the foreseeable future.
Figure 1: Economic growth for emerging markets is expected to expand, while developed markets' growth remains stagnant
Source: IMF, World Economic Outlook, October 2017. Forecasts are offered as opinion and are not reflective of potential performance, are not guaranteed and actual events or results may differ materially. For illustrative purposes only.
The political environment is also looking more stable in many emerging nations. One of the best examples is in India, where Prime Minister Narendra Modi has become one of the most powerful leaders the country has had in years. Modi has begun to enact many reforms to help stem corruption and create more transparency in how the government is run.
The Goods and Services Tax (GST) has been one of the most important reforms ever delivered, and certainly the most important tax reform. Getting it passed into law not only involved the central government but also their relationship with India's states, which ultimately have to accept, adopt and implement the proposed law. And while it may take some time to fully recognize the benefits of the demonetization policy and how it has helped address corruption, capital that is now taxable has started to enter the banking system. This has had a significant impact on the political arena, as campaign financing has been significantly curtailed. This should have a significant impact on opposition parties during the run-up to important state elections and the national election in 2019.
China has also been part of the broader stabilization story, as it continues its balancing act between monetary tightening and support for economic growth. Fears surrounding the likelihood of an economic downturn have subsided somewhat. Domestic consumption remains robust, and private fixed-asset investment has improved. However, the overheating property market and capital outflows continue to be a concern. Stimulus has boosted Chinese demand for commodities, and this has had direct benefits for emerging markets.
A commitment to orthodox central bank policy has helped improve the financial situations of many emerging markets.
A commitment to orthodox central bank policy has helped improve the financial situations of many emerging markets. Once again, India provides a good example. Reforms began when Raghuram Rajan took the helm at the Reserve Bank of India in 2013. At the time of his arrival, India struggled with high inflation and was vulnerable to capital outflows following the "taper tantrum," when then-Federal Reserve (Fed) Chair Ben Bernanke hinted at reducing the amount of bond purchases by the U.S. central bank. Rajan's main accomplishments during his term were targeting inflation and creating a credible Monetary Policy Committee.
His successor, Urjit Patel, is following a similar path of conservative monetary policy, and India continues to see the benefits in the form of lower interest rates, better credit ratings and increased interest from foreign investors. Innovations such as Aadhaar, a nationwide identification system that uses a fingerprint and retinal scan to verify a citizen's name, banking information and other details, is being used for tax filing purposes and improving access to cheap credit and other banking services while reducing tax revenue shortfalls due to tax evasion.
Like India, Brazil has also embarked on a series of rate cuts and reforms to help stimulate growth. While Brazil's emergence from recession has been gradual, we are seeing some stabilization in the economy and inflation has started to come down. Another rate cut is expected later this year, which should support Brazil's recovery. Rates have already been cut by a cumulative 775 basis points (bps) since the fourth quarter of 2016.
And even though the Mexican central bank hasn't been cutting rates over the past couple of years, it is still part of the larger narrative around emerging-market central banks doing what is right even when it's difficult. In order to shore up the peso after the U.S. presidential election results, Banxico raised rates a number of times. While there was an additional interest-rate hike in February 2018, rates were held steady at 7.50% at the most recent central bank meeting as policymakers grappled with the uncertainty stemming from NAFTA renegotiations and the upcoming presidential election. Although the peso has declined recently against the dollar, central bankers have stated that currency intervention is unnecessary at this time.
Turbulent times for trade and politics
U.S. President Donald Trump has begun making good on his campaign promises of protectionism. Earlier this year, the Trump administration introduced tariffs on steel and aluminum imports, and later announced additional tariffs on $60 billion worth of Chinese goods. At the same time, NAFTA is being renegotiated. These actions have sparked fears of a trade war as China and other nations seek to retaliate against these measures.
Still, it isn't the end of the world for many emerging markets. First of all, the importance of the U.S. as a trade partner varies greatly among emerging economies, as shown in Figure 2 below. Nations like Brazil and India aren't as dependent on the U.S. for trade, and their current account deficits are fully covered by foreign direct investment.
Figure 2: Goods exports to the U.S. (percentage of total)
Source: IMF, Bloomberg, August 2017. For illustrative purposes only.
Second, while the U.S. is a significant export destination for most markets, it isn't the only game in town. For example, China is a bigger consumer of commodities than the U.S., which means that, from a trade perspective, commodity exporters in emerging markets are paying more attention to China than they are to the U.S.
Populism continues to be a driving political force in the West. In the U.S., the Trump administration remains committed to a protectionist agenda. Brexit negotiations are ongoing, as the UK and Europe continue to grapple with what their new relationship will look like. Italian elections in March resulted in the majority of votes going to the populist Five Star Movement. All of this upheaval spells continued uncertainty for the developed markets, in contrast with the calmer political tone currently reflected in a number of emerging markets.
Implications for emerging-markets equities
The situation has grown more complicated for emerging markets. Protectionism has come to the forefront with the U.S. and China exchanging one tariff for another and ongoing negotiations over NAFTA. The threat of U.S. inflation is becoming more pronounced. Additionally, the possibility that the Fed will accelerate its pace of monetary tightening has implications for the dollar, with an associated risk of capital flight from emerging markets. On top of all of this, volatility returned to emerging market stocks during the first quarter amid a global sell-off in the tech sector, following an extended period of strong gains over 2017. For an active manager investing only in companies where there is high conviction, the focus is on company fundamentals rather than expectations for the broader global economy.
While investors are dealing with uncertainty surrounding the macroeconomic backdrop, fundamentals for emerging markets remain positive.
While investors are dealing with uncertainty surrounding the macroeconomic backdrop, fundamentals for emerging markets remain positive. The bottom-up view from company management looks promising as well. Particularly in Asia, companies are reporting improved balance sheets, with less debt than they previously had. Additionally, corporate profitability has been improving. Net income margins for non-financial companies in emerging markets surpassed those of their counterparts in the developed world last year, and return on equity (ROE), another measure of profitability, exceeds that of European and Japanese companies.
Figure 3: Emerging markets' earnings per share by region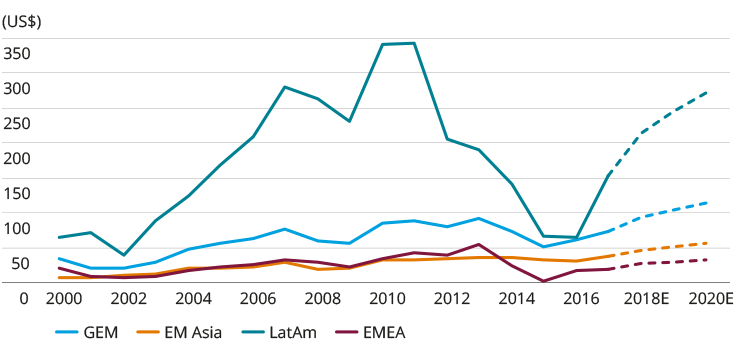 Source: Bloomberg, March 2018. *Estimates by Bloomberg. For illustrative purposes only. Projections are offered as opinion and are not reflective of potential performance. Projections are not guaranteed and actual events or results may differ materially.
Equity fundamentals look promising, and emerging assets still offer value. While they may not be as cheap as they once were, they still look attractive compared to the valuations of assets in developed markets, which have risen due to years of quantitative easing. Overall, there are still many attractive opportunities for long-term investors within emerging markets.
Implications for emerging-markets debt
While there has been some weakness recently within the asset class, it has highlighted some interesting investment opportunities. For while geopolitical risk remains an overarching concern, emerging economies continue to display good growth prospects, contained inflation, and sustainable balance of payments positions. Valuations have risen, but there is still some value to be had in these securities if investors are selective. Additionally, as shown in Figure 4, emerging-markets bonds continue to offer relatively higher yields than developed-markets bonds.
Figure 4: EM real yields still have plenty of room to fall
Source: HSBC, IMF, March 2018. *PPP weighted average of Brazil, China, India, Indonesia, Mexico, Poland, Russia, S. Africa and Turkey. **PPP weighted average of Germany, Japan, UK and the U.S. For illustrative purposes only.
While risks remain in the form of rising U.S. Treasury yields, emerging-markets debt remains a compelling opportunity for global investors, particularly those looking to generate excess returns in their portfolios and gain exposure to different types of risk. Overall, emerging markets have taken the time to become better positioned for the future, helping build investor confidence about their long-term direction.
Emerging markets have taken the time to become better positioned for the future, helping build investor confidence about their long-term direction.
A long view
In the investment world, details matter. Emerging economies aren't homogeneous, and therefore broad generalizations about emerging markets and investment potential don't apply. The same philosophy holds regarding views on risk. Overall, emerging economies are in better shape than they were even a few years ago. External imbalances have improved as evidenced by the fact that current account deficits have generally fallen. Emerging economies are developing at a rapid pace, and many of the ones who have been the most successful in generating growth have been those that have limited debt burdens, reform-minded governments and orthodox central-bank policies. With these structures and objectives in place, businesses often have an easier time operating, and investors can feel more confident about investing in these opportunities as they present themselves.
Investor sentiment is important. Uncertainties remain as to whether geopolitical risks, such as tensions in Russia, Iran and Syria, will become more pronounced over time. The Trump administration's protectionist policies and the recent withdrawal from the Iran nuclear deal have added to these concerns. Finally, the U.S. dollar has strengthened and the 10-year U.S. Treasury has risen above 3%. Both of these factors create additional risks for emerging markets. All of this bears close monitoring.
Ultimately, for investors looking at the longer view, there has to be a willingness to withstand shorter-term volatility in order to have the potential of reaping a longer-term reward. Exciting times are ahead for emerging markets, and plenty of opportunities exist for those who are patient and selective.
---
Important Information
Foreign securities are more volatile, harder to price and less liquid than U.S. securities. They are subject to different accounting and regulatory standards, and political and economic risks. These risks are enhanced in emerging markets countries.
Fixed income securities are subject to certain risks including, but not limited to: interest rate (changes in interest rates may cause a decline in the market value of an investment), credit (changes in the financial condition of the issuer, borrower, counterparty, or underlying collateral), prepayment (debt issuers may repay or refinance their loans or obligations earlier than anticipated), call (some bonds allow the issuer to call a bond for redemption before it matures), and extension (principal repayments may not occur as quickly as anticipated, causing the expected maturity of a security to increase).
Indexes are unmanaged and have been provided for comparison purposes only. No fees or expenses are reflected. You cannot invest directly in an index.
The MSCI information may only be used for your internal use, may not be reproduced or redisseminated in any form and may not be used as a basis for or a component of any financial instruments or products or indices. None of the MSCI information is intended to constitute investment advice or a recommendation to make (or refrain from making) any kind of investment decision and may not be relied on as such. Historical data and analysis, should not be taken as an indication or guarantee of any future performance analysis forecast or prediction. The MSCI information is provided on an "as is" basis and the user of this information assumes the entire risk of any use made of this information. MSCI, each of its affiliates and each other person involved in or related to compiling, computing or creating any MSCI information (collectively, the "MSCI" Parties) expressly disclaims all warranties (including without limitation, any warranties of originality, accuracy, completeness, timeliness, non-infringement, merchantability and fitness for a particular purpose) with respect to this information. Without limiting any of the foregoing, in no event shall any MSCI Party have any liability for any direct, indirect, special, incidental, punitive, consequential (including, without limitation, lost profits) or any other damages (www.msci.com).
ID: US-110618-66672-1