Nature is vital for a healthy economy, but the planet faces a crisis as companies, markets and governments have consistently failed to take into account the financial value of biodiversity.
Biodiversity refers to the variety of life on Earth. According to estimates by the World Economic Forum, more than half of the world's economic output — some $44 trillion — is moderately or highly dependent on nature and healthy ecosystems. Change is desperately needed.
Biodiversity Loss – impossible for investors to ignore is the second of two papers that look at how preserving biodiversity is critical to supporting sustainable growth and examine the nature-related risks and opportunities in the most affected sectors.
Click here to read the first paper.
Why it matters for investors
Biodiversity loss is climbing higher in the investment agenda — driven by investor interest in sustainability, the changing regulatory environment and a growing understanding of how this problem affects investments across markets and geographies.
Investors and companies need to prepare for the impact of increased regulation. For example, the EU Taxonomy has established an approved list of environmentally sustainable economic activities.
Meanwhile, changing customer behavior — and the reputational risks that arise when companies get it wrong — are important as consumers become more aware of their dependence on nature and the economic services provided by healthy ecosystems.
Risks and opportunities
Renewed scrutiny and awareness may mean new risks, but they also mean new products and services, access to new markets and first-mover advantages. The sectors most exposed are those which are most dependent on healthy ecosystems, including: agriculture, food and beverages, healthcare and pharmaceuticals, fisheries and extractives.
There's considerable variation in risk exposure depending on the intensity of the economic activities taking place and the level of biodiversity integrity within a region. We've compiled easy-to-read summaries of the key risks and opportunities in the following tables:
Table 1: Nature-related financial risks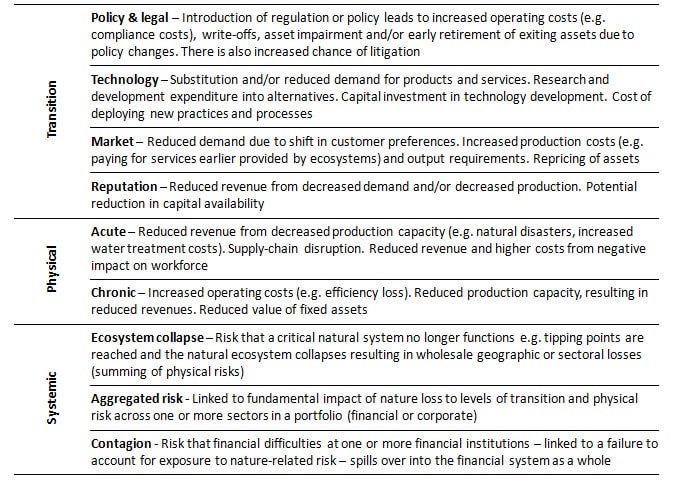 Source: abrdn, TNFD, accessed May 2022
Biodiversity loss and climate change are interlinked and investors have an opportunity to address both crises at the same time. For example, natural infrastructure can protect us against some of the damaging effects of climate change — nature-based solutions can absorb a proportion of the greenhouse-gas emissions that we're currently struggling to abate and can complement emission-reduction efforts.
Meanwhile, regenerative agricultural practices have also been shown to be more resilient to extreme weather and disease — both of which are likely to be aggravated by climate change.
Table 2: Nature-related financial opportunities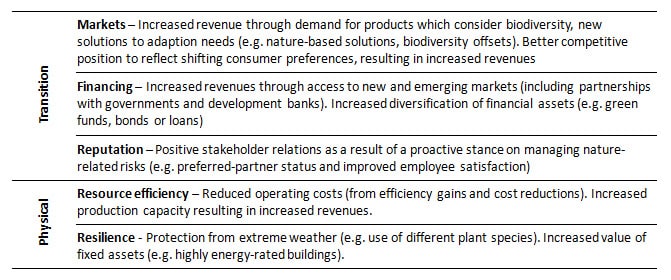 Source: abrdn, TNFD, accessed May 2022

Key takeaways for investors — what's next?
Biodiversity loss is set to become the next big consideration for investors in their environmental, social and governance (ESG) investment integration process, and it is a key priority for us.
We know the natural world is important to our health and well-being. The pandemic has highlighted this. But we're only just beginning to understand the full extent of this relationship.
Investors need to move away from the idea that the restoration of a healthy ecosystem is a cost to toward the view that it's an opportunity vital to supporting flourishing economies, the transition to a lower-carbon world and the creation of a more equal society.
More specifically, investors should consider:
Understanding the biodiversity-related risks and opportunities they are exposed to
Engaging with companies operating in the most affected sectors to understand how biodiversity impact is being managed
Exploring data sources that can provide more clarity on measuring biodiversity loss and gain
Working with policy makers and participate in industry initiatives to help drive best practice
We recognize there are obstacles, such as the availability of comparable data and a large funding gap between what's needed and what policy makers have committed. However, it's not too late to tackle the biodiversity crisis. The natural world can recover given time. But acting now is vital.
Source:
* The Economics of Biodiversity: The Dasgupta Review – Full Report (2021) [online], Dasgupta, P. (accessed 21/05/2021)
** 'Grain for green': How China is swapping farmland for forest, Dayne, S., Forest News, Nov 2017
*** Brazil's JBS accused of violating Amazon rainforest protection laws, Boadle, J., Reuters , Apr 1 2017
**** EU proposes law preventing import of goods linked to deforestation, Angel, M., Reuters, Nov 17 2021
***** Storm surge and ponding explain mangrove dieback in southwest Florida following Hurricane Irma, Nature Communications, June 28 2021
° Future Demand, Supply and Prices for Voluntary Carbon Credits – Keeping the Balance June 2021, UCL and Trove research
°° 2020 U.S. retail market data for the plant-based industry, Good Food Institute [accessed May 10 2022]
°°° Regenerative agriculture: merging farming and natural resource conservation profitably, LaCanne, C., Lundgren, J., PeerJ, Feb 26 2018
°°°° 73 Percent of Millennials Are Willing to Spend More Money on This 1 Type of Product, Curtin, M., Inc., Mar 30 2018
°°°°° Wave attenuation by Spartina saltmarshes in the Chesapeake Bay under storm surge conditions, Garzon, J.L., M. Maza, C.M. Ferreira, J.L. Lara, and I.J. Losada, Journal of Geophysical Research: Oceans 124: 5220–5243 (2019)
IMPORTANT INFORMATION
Foreign securities are more volatile, harder to price and less liquid than U.S. securities. They are subject to different accounting and regulatory standards, and political and economic risks. These risks are enhanced in emerging markets countries.
US-240522-175429-1