Asia accounts for more than half of global carbon dioxide emissions, but …
Asia is also home to some 45% of global installed renewable energy capacity.1,2 The transition of regional economies to more sustainable growth models will create a market opportunity for green businesses that could be worth up to US$5 trillion by 2030, according to global consulting firm McKinsey.2
While capturing the most promising investment opportunities in fixed income and equities, abrdn is helping to finance the green transition in some of the world's most exciting economies.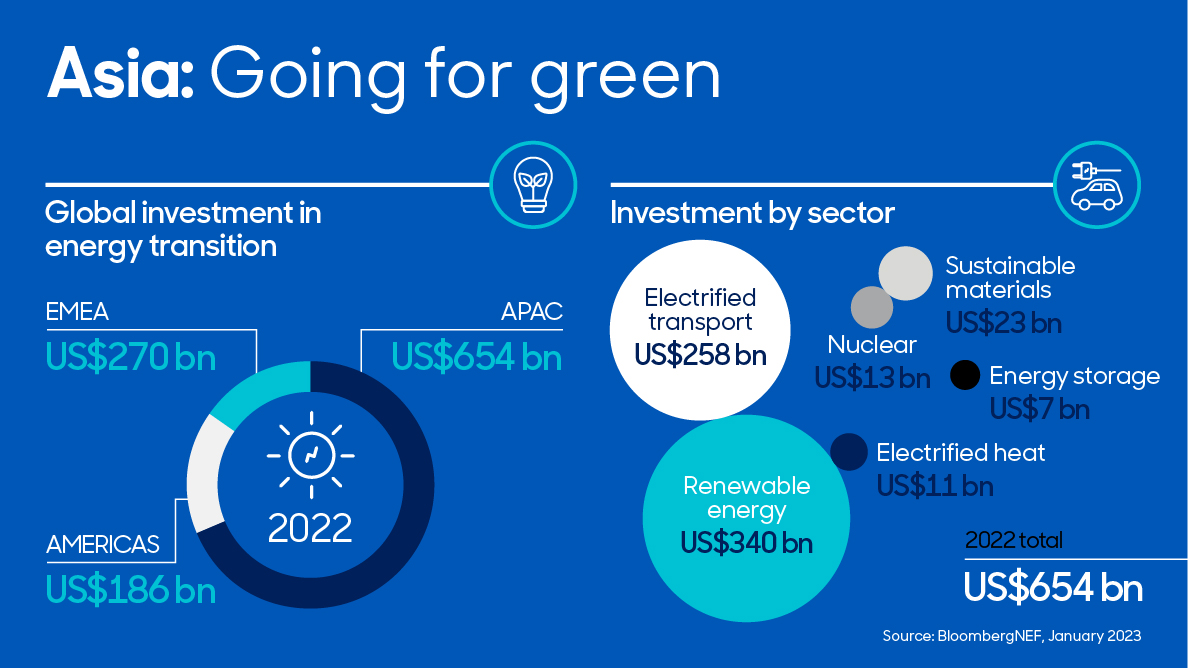 Source: BloombergNEF, January 2023.
China is the world's largest investor in renewable energy. Along with Japan, Korea, and India, these countries rank within the top 10 on national investment in the energy transition.3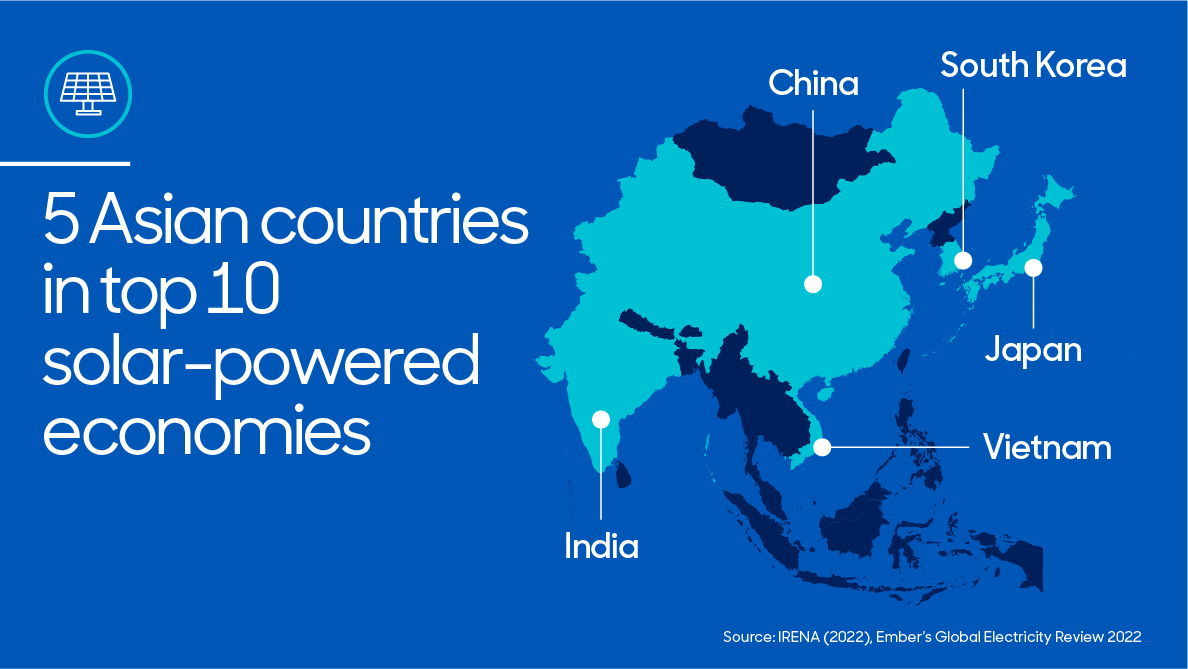 Source: IRENA (2023), Ember's Global Electricity Review, 2022.
Fixed income
Asia is shifting towards a more sustainable development path as governments across the region acknowledge the effects of climate change. That's why, like their counterparts elsewhere, they've started implementing plans to achieve national carbon net-zero goals.
Policymakers are also examining how infrastructure must adapt to the physical damage caused by more frequent storms, floods, and droughts. As a result, Asia accounts for the majority of renewable energy investment globally – more than half of the total amount invested in 2022.3
… Asia accounts for the majority of renewable energy investment globally – more than half of the total amount invested in 2022.[3]
How can investors participate?
Labelled bonds
An umbrella term that covers green, social, sustainability, and sustainability-linked bonds. Asia is one of the fastest growing labelled-bond markets.4 With the large infrastructure spend needed to fund the region's sustainable growth, these debt instruments will continue to be an important access point for investors wanting to drive Asia's green transition.
Credible corporate transition plans
Policy and environmental change will affect the way companies operate, and firms need to adapt. Those that embrace sustainable practices in their business strategy are likely to be better prepared for a world of rising climate change costs. Environmental, social and governance (ESG) rating agencies recognize companies that succeed in making a positive sustainability transition. This has caused divergence in the performance of bonds issued by these firms and those of their peers who are slower to respond.
What themes are worth paying attention to?
India
Asia's most populous country benefits from many supportive sustainability policies: renewable energy prioritization, national renewable energy targets, and more recently, a push towards creating a domestic supply chain for renewable energy equipment. The legal system's enforcement of contracts is also a comfort for investors.
Vehicle electrification
Asia dominates electric vehicle (EV) battery production.5 The rapid adoption of EVs in China, and increasingly across the region, provide opportunities to invest in names that will see earnings growth help support creditworthiness. Looking ahead, countries like Malaysia, where petrol is subsidized, may benefit over the longer term from pushing EV adoption.
Firms with credible transition plans
Companies that can deliver transition, and not just on those firms that have completed the process. To that extent, there are interesting opportunities in sectors – such as steelmaking and cement – where companies are beginning to explore the options available to them to move towards a lower-carbon footprint.
The green transition in Asia is expected to be a medium- to long-term story, as the transition pathway is often not linear. Bond pricing is already changing to reflect rising risks and growing opportunity. For example, one Chinese EV battery manufacturer has seen its bond spreads narrow considerably since issuance in 2020 – a sign of growing investor interest and confidence.
The spread is the additional yield above that paid by a comparable government bond that investors demand to compensate them for embracing more risk.
Equities
Rapid economic development often comes at a heavy cost to sustainability. Since 2019, Asia has accounted for more than half of global CO2 emissions. But things are changing. Across the region, more than 15 countries and 670 companies have set, or are committed to setting, emissions-reduction targets. The region already accounts for some 45% of global-installed renewable energy capacity.1 Half of this is in China, India, and Australia. There's also investment in Taiwan, Vietnam, and Thailand.
[Asia] already accounts for some 45% of global-installed renewable energy capacity.[1]
Under the Network for Greening the Financial System's Net Zero 2050 scenario, it's estimated that between 2020 and 2050, some US$3.1 trillion a year must be spent on physical assets for the region's energy and land-use systems.1
China …
In the context of investing in the Asian sustainability theme, China is the hands down leader. In 2022, Asia's biggest economy spent some US$546 billion on renewable energy investments that included solar and wind energy, EVs, and rechargeable batteries.6 That's nearly four times what the US spent that year.
Over the past decade, solar photovoltaic manufacturing capacity has moved away from Europe, Japan, and the US to China. That's why the country is now home to all of the world's top-ten suppliers of solar panel manufacturing equipment.5
It's also the world's largest market for EVs – the world's biggest EV battery-maker by market share is Chinese – and the country controls around 80% of the global solar energy production value chain.5,7
… Is not the only story
However, we also have significant investments in South Korea and India as well. South Korea may not be a surprise. For decades, this North Asian country has been flexing its industrial might in the rest of the world as a leader in science and technology. Boosted by the country's exporting prowess, today three of the world's top-ten EV battery-makers by market share are Korean.5 Korea also ranks in the global top-ten countries for energy-transition investments in 2022.7
On the other side of the continent, it wasn't that long ago that investing in India was considered a less conventional choice. This is less so today. But we've been investing in the country for almost 30 years and it's a market that we're still interested in because we see strong government support for sustainability goals, clear renewables targets and robust legal enforcement of contracts.
Final thoughts
Asia is at the vanguard of global efforts to shift economies onto a more sustainable foundation. As we've learned, there are opportunities in the region that range from copper miners to renewable energy operators, and from battery manufacturers to transmission firms. While international politics adds complexity for investors, it's clear that sustainability issues, such as climate change, are everyone's problem.
Sustainability solutions can't be confined to any one region. That's also why the opportunities won't be either.