Investing primarily in equity instruments at least 80% of its NAV, in average, in any accounting period. The abrdn China A Share Sustainable Equity Fund invests in the abrdn SICAV I - China A Share Sustainable Equity Fund (Master Fund), whereby the Master Fund invests, directly or indirectly, at least 90% of its total assets in equity and equity-related securities of companies whose securities are listed on Chinese Stock Exchanges (Shanghai Stock Exchange, Shenzhen Stock Exchange) including, without limitation, China A-Shares and B-Shares of companies listed on such exchanges and corresponding H-shares or other equivalent securities authorised by the CSRS for purchase by non-Chinese investors.
Key highlights of the Master Fund
Key investment themes (Master Fund)
Where we are finding the best opportunities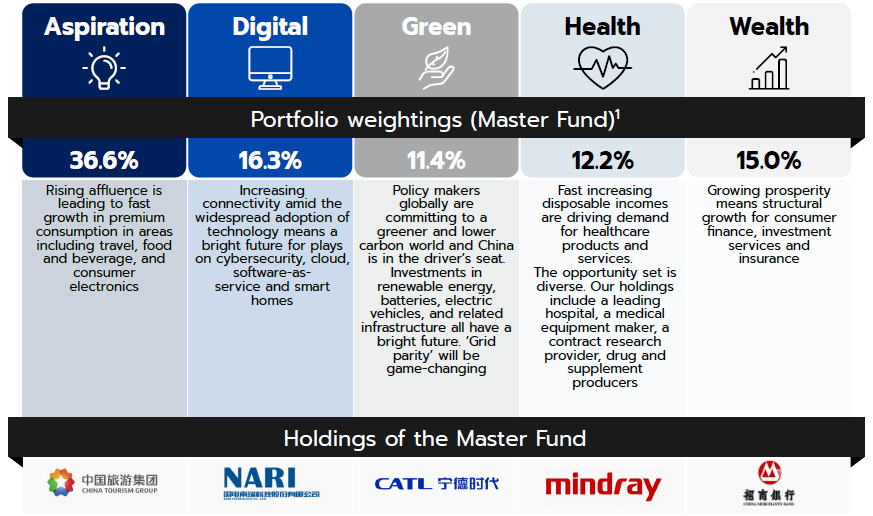 Source: abrdn, 31 March 2023. Investment themes and respective weightings are subject to change
Contact us
If you wish to receive further information and insights on our China A Share Sustainable Equity investment capabilities and product offerings, please complete the form below.
Our distributors
Being investment professionals, we aim to have our funds objectively marketed by other service providers. Aberdeen Asset Management (Thailand) Limited's funds are available from a range of distributors including e-platforms, banks, insurance, financial advisers and brokerages. if you would like to invest or require financial advice please get in touch with one of these distributors.
Investment terms and conditions apply for each distributor.