What is abrdn China Next Generation Fund (ABCNEXT)?
abrdn China Next Generation Fund will mainly invest in units of abrdn SICAV I – China Next Generation Fund (master fund), which is a mutual fund that is established in accordance with the regulations of UCITS under the relevant laws of Luxembourg that is an ordinary member of IOSCO. The fund will invest in USD currency and in the master fund on average at least 80% of the fund's NAV in the accounting year and net exposure related to foreign risks on average in the accounting year at least 80% of the Fund's NAV.
The fund aims to outperform the benchmark (active management).
The master fund's objective is to achieve long-term total return and outperform its Benchmark. The Fund invests at least 70% of its assets in small and mid-capitalisation equities and equity-related securities of companies listed, incorporated or domiciled in China, or having significant operations and/ or exposure to China.
Small and mid-capitalisation companies are defined as any stock having a market capitalisation less than the 30th percentile stock of the overall China market.
The master fund may invest in Mainland China equity and equity-related securities (not including Hong Kong, Macou, and taiwan) through the Shanghai-Hong Kong and Shenzhen-Hong Kong Stock Connect programme or by any other available means, a 30% limit applies to QFII regime.
Changing World Order - อนาคตของจีนในระเบียบโลกใหม่
Key Benefits of ABCNEXT
ABCNEXT invests into the master fund that provides the key benefits as follows:
China mid-small cap opportunities: The master fund will seek Chinese small-medium companies with potential and opportunity to become future leaders
New economy: Moving forward with the new economy which is considered the backbone of China that drives employment and innovation
Experienced: A team of experts on the ground with over 30 years of experience in Asia, providing local insights of the Chinese market, and integrating ESG into the investment process.**
eXposure to unique access: Open doors for Thai investors to the Shanghai Star Market and Beijing Stock Exchange, where only Chinese and Qualified Foreign Institutional Investors (QFII) can access these two markets.
Thematic play: Investing in 4 key themes: Aspiration, Green, Tech and Health. Diversified approach covering the consumer sector, green-tech, automation and health care.***
The fund invests in 4 key investment themes***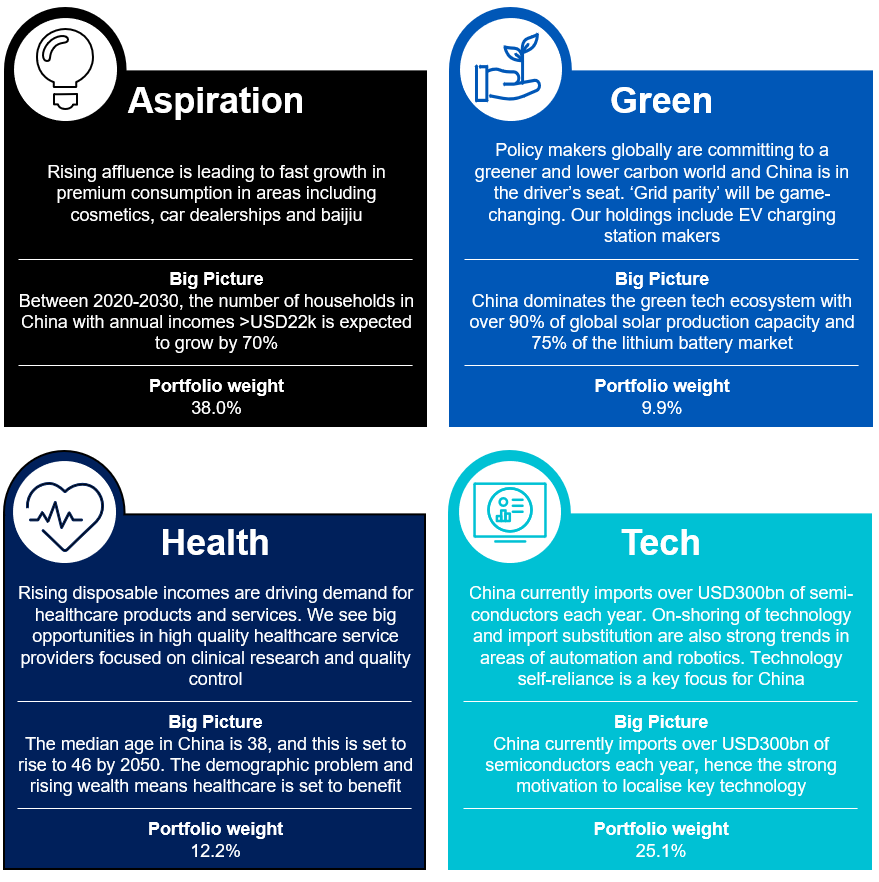 Weightings are subject to change and provided for informational purposes only. Forecasts are offered as opinion and are not reflective of potential performance
Forecasts are not guaranteed and actual events or results may differ materially
Investment themes are subject to change
Source: abrdn, McKinsey, Bernstein, 31 December 2022
Available shareclasses and benefits
*ABCNEXT means ABCNEXT-M which consists of two share classes: ABCNEXT-A and ABCNEXT-SSF
**Source: abrdn, 31 December 2022
***Source: abrdn, 31 December 2022. Investment themes are subject to change.
Contact us
If you wish to receive further information and insights on our China Next Generation investment capabilities and product offerings, please complete the form below.
Our distributors
Being investment professionals, we aim to have our funds objectively marketed by other service providers. Aberdeen Asset Management (Thailand) Limited's funds are available from a range of distributors including e-platforms, banks, insurance, financial advisers and brokerages. if you would like to invest or require financial advice please get in touch with one of these distributors.
Investment terms and conditions apply for each distributor.