The abrdn Global Innovation Equity fund invests in the abrdn SICAV I – Global Innovation Equity Fund (master fund), which was built to benefit from innovation in a variety of ways to create a better future.
The world is changing fast, with new innovations continuously disrupting the world's most exciting secular growth themes. Investors need to understand how to identify the companies best placed to benefit. Active investment is the best way to protect your portfolio, in our view.
Innovation is the lifeblood of progress and growth, creating a path to future efficiencies.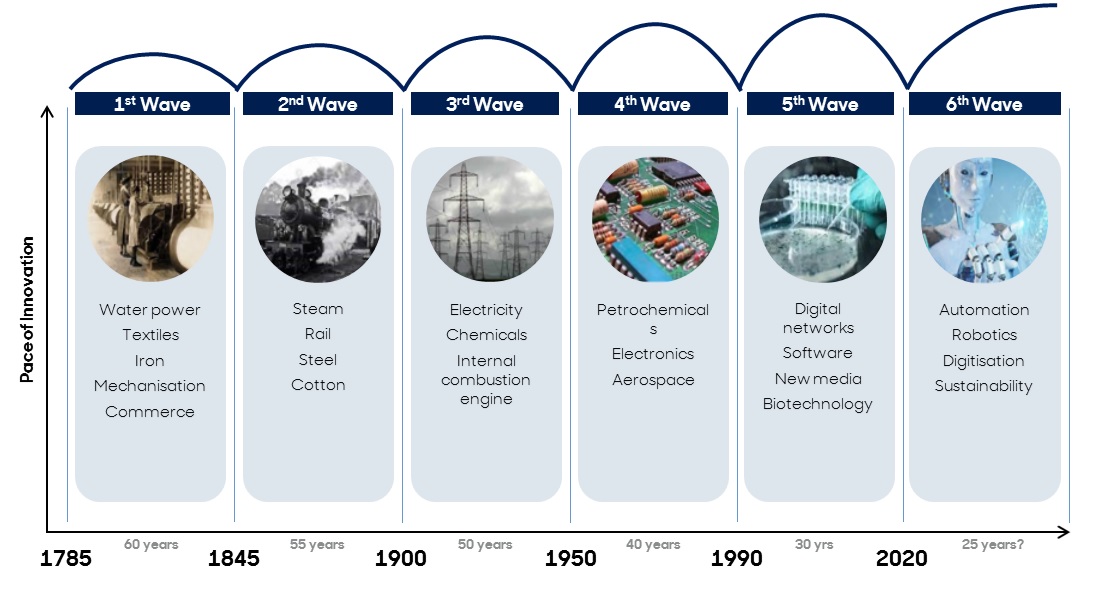 Introducing the abrdn Global Innovation Fund (ABINNO)
Mainly invest in abrdn SICAV I - Global Innovation Equity Fund
The portfolio offers broad thematic exposure to:

Source: abrdn. © owned by each of the corporate entities named in the respective logos. Companies selected for illustrative purposes only to demonstrate the investment management style described herein and not as an investment recommendation or indication of future performance.
Why abrdn for Innovation
Clarity of vision
To own the companies of the future
Long term
Fundamental research allows us to take a long term view
Active
The benchmark is comprised of mainly traditional companies
Resources
Expertise across market cap spectrum, across sectors, across asset classes, in all corners of the world
ESG / Engagement
As long term investors we think carefully about ESG risks and opportunities and engage actively with companies both before and after becoming shareholders
Available shareclasses and benefits
Register for our insights or contact us today
If you wish to receive further information and insights on our global innovation, investment capabilities and product offerings, please complete the form below.
Our distributors
Being investment professionals, we aim to have our funds objectively marketed by other service providers. Aberdeen Asset Management (Thailand) Limited's funds are available from a range of distributors including e-platforms, banks, insurance, financial advisers and brokerages. if you would like to invest or require financial advice please get in touch with one of these distributors.
Investment terms and conditions apply for each distributor.