abrdn Small-Mid Cap Fund (ABSM*) is one of abrdn's flagship funds, which seeks capital growth of small and mid sized Thai companies that have the potential to become Thailand's leaders in the future. The fund mainly invests in securities of companies registered in the Stock Exchange of Thailand with a market capitalization not exceeding THB 80 billion prior to the investment date.
Invest in 4 key investment themes that are driving Thailand's economy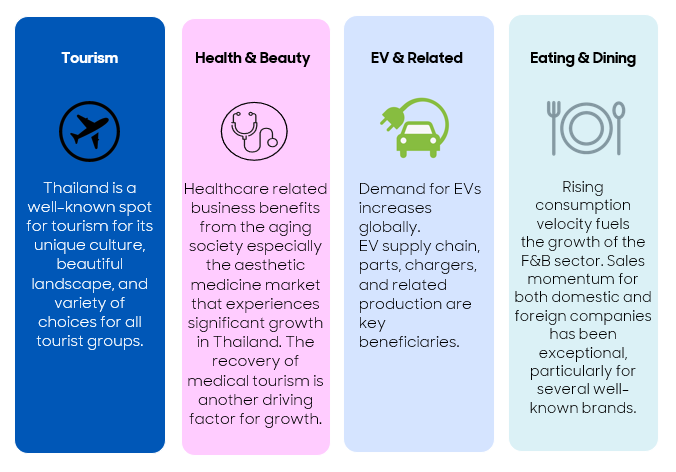 Source: abrdn, July 2023. Investment themes are subject to change.
Forecasts are offered as opinion and are not reflective of potential performance.
Forecasts are not guaranteed and actual events or results may differ materially.
Our bottom-up approach to smaller companies investing
The principles: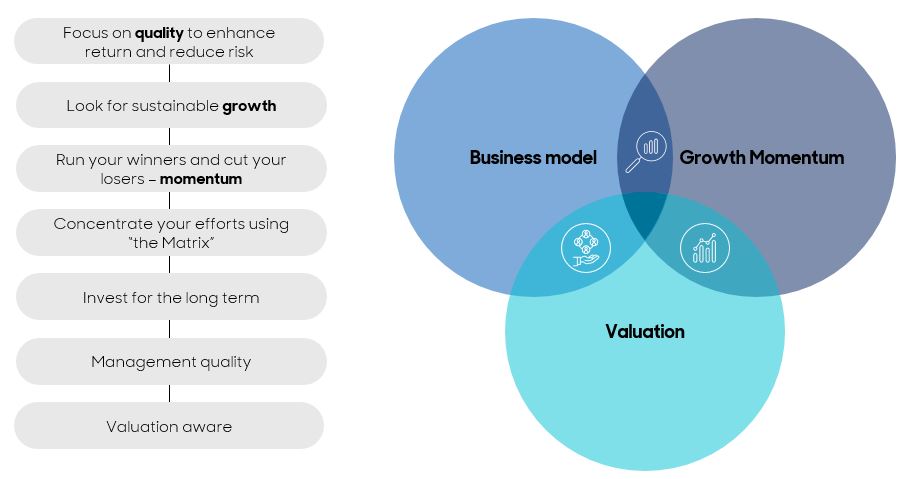 Source: abrdn, October 2022
Company insights leading to better outcomes
High quality research
Fundamental investment understanding underpins our research
ESG considerations integrated into investment approach
Extensive in house and third party resource and experience
In depth company, sector, industry and thematic research
Connected teams
Working together we deliver better investment results and innovation
Specialised ESG Analyst for every regional team
Centralised ESG team supporting all asset classes
Collaboration with abrdn's Research Institute, Credit, Private Markets and Multi-Asset teams
Active corporate engagement
Stewardship is a fundamental component of our investment process
Active, engaged and responsible stewards of our clients' money
Active owners engaging and voting to drive positive changes in corporate behaviour
Undertake informed and constructive engagement to improve performance
Positive outcomes
Delivering better risk adjusted returns
Holistic insights enhance investment decision-making
Management engagement improves corporate performance for clients and the wider society
Available shareclasses and benefits
ABSM*
*ABSM means ABSM-M which consists of two share classes: ABSM and ABSM-SSF.
ABSM-RMF has the same investment model as ABSM.
Contact us
If you wish to receive further information and insights on our global innovation, investment capabilities and product offerings, please complete the form below.
Our distributors
Being investment professionals, we aim to have our funds objectively marketed by other service providers. Aberdeen Asset Management (Thailand) Limited's funds are available from a range of distributors including e-platforms, banks, insurance, financial advisers and brokerages. if you would like to invest or require financial advice please get in touch with one of these distributors.
Investment terms and conditions apply for each distributor.