Tax Saving Funds' Promotion
Get 100 THB worth of ABCC for every 50,000 Baht of investment amount made into RMF and SSF that available in the campaign. Today - 29 Dec 2023
Tap into our global expertise
Introducing abrdn tax saving funds with available SSF and RMF share classes that will give you an access to a variety of investment opportunities and help Thai investors reach their desired investment goals.
Retirement Mutal Fund (RMF)
Investing made easy
You can open an investment account either with us direct or through one of our distributors. We also have arrangements with leading banks to let you make investments online or via credit card.
 Bill Payment (B-Pay)
No fee.
Minimum subscription balance is 1,000 Baht per transaction.
For extra convenience: You can apply for FastTrack service, which lets you invest without completing a Subscription Order.
Investing channels for new customers:
 Krungsri Credit Card (except Krungsri First Choice)
You can pay though Krungsri Credit Card, ** for ABTESSF, ABTESSFX, ABSC-RMF and ABAPAC-RMF only.
Please download subscription order, complete the form and attach a copy of the front of credit card then submit to abrdn to proceed your transaction. You can submit via fax 02-352-3389 or email client.services.th@abrdn.com
* Bank conditions apply
** Condition for minimum of subscription is THB 1,000 per fund per transaction.
Note: Subscription – before 15.30 of every working day
Download subscription form arrow_forward
 abrdn online
abrdn online is the online platform for all your abrdn fund needs. Anyone can sign up, there are no costs and we are open 24 hours a day.
Download abrdn online application here

Log on at your own convenience to:

Place a buy, sell or switch order.
Check online transaction status.
Check the balance of your holdings.
View past statements and fund distribution histories.
Update your personal information.
All transactions are protected by secure password encryption.

Download Direct Debit form here
Important announcement
For investment in RMF/SSF for tax deduction since 2022 onwards, investors must notify their intention to apply for tax deduction to the asset management company.
From January 1, 2022 onwards, investors of Retirement Mutual Fund (RMF) and Super Savings Fund (SSF) must submit a request for tax deduction through the following channels. You can fill out the form only once without having to repeat every year. In order not to miss the opportunity for tax deduction, you can register today. This is in accordance with the Revenue Department's new rules to request proof of purchase of investment units directly from the asset management company.
Click here to register arrow_forward
Please be informed that:
For investors who opened fund account directly with abrdn, after you have filled out information about your intention for tax deduction, the company will send a confirmation message to your registered mobile phone number within two business days. For more information, contact the Customer Relations Department at Tel. 0-2352-3388.
For investors who invested through the distribution agent, after you have filled out information about your intention for tax deduction, you will receive a confirmation of registration from your trustee, or you can contact your trustee by yourself.
For more information, please visit: https://www.abrdn.com/en-th/investor/how-to-invest/our-distributors.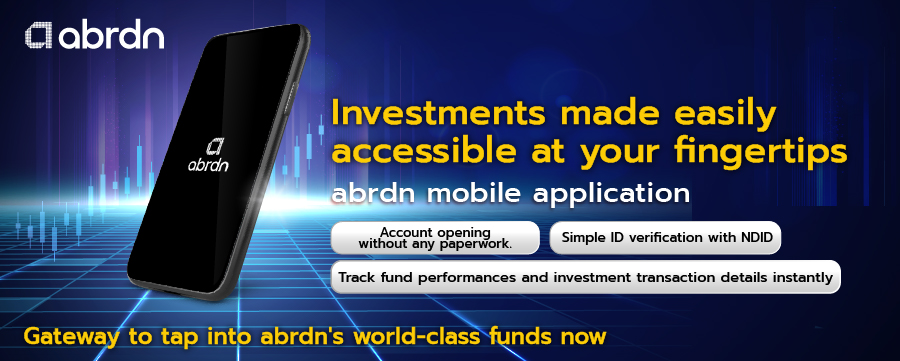 Keep updated
Stay up to date with SSF and RMF products and insights.